Miso Tahini Soup
Kabocha squash is an alternative to delicata squash here. Or any winter squash, really. And the recipe calls for white miso here, but you can certainly experiment with another type of miso, or a blend. Just keep in mind some are much saltier (and stronger) than others, so add gradually if you're unsure.
1 small-medium delicata squash, seeded and sliced into 1/4-inch crescents
1 medium white turnip, peeled and cut into 3/4-inch pieces
4 cups water
4 tablespoons white miso, or to taste
1/4 cup tahini
zest of one lemon
~3 cups of cooked brown rice
1 avocado, sliced
1 bunch of chives, minced
toasted nori (or kale), crumbled, for serving
toasted sesame seeds
Add the squash and turnips to a large pot, cover with the water, and bring to a gentle boil. Simmer until the vegetables are tender, about 15 minutes. Remove the pot from the heat and let it cool just slightly. Pour a few tablespoons of the hot water into a small bowl and whisk in the miso (to thin it out a bit—this step is to avoid clumping). Stir the thinned miso back into the pot along with the tahini, and lemon zest. At this point, taste, and adjust the broth to your liking, it might need a bit more miso (for saltiness)…or more tahini.
To serve, place a generous scoop of rice in each bowl along with some of the squash and turnips. Ladle broth over the vegetables, and finish with a few slices of avocado, a sprinkling of chives, toasted nori, and sesame seeds.
If you have leftovers and need to reheat the soup, you'll want to do so gently, over low heat, to preserve the qualities of the miso.
Serves 4.
Prep time: 10 min - Cook time: 15 min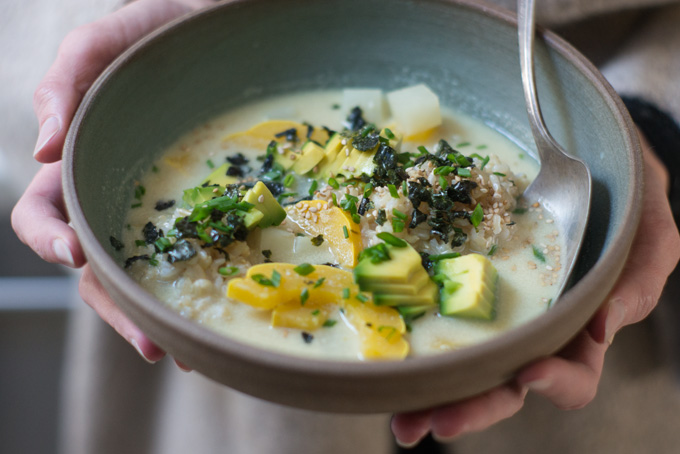 healthier-habits: Healthy Chicken Chickpea Chopped Salad Ingredients 2 large romaine hearts, washed and chopped 1 cup pulled cooked chicken breast 1 (15.5 oz) can chickpeas, rinsed and drained 1 cup grape tomatoes, sliced in half 3/4 cup sweet corn (I grilled mine) 1/4 cup crumbled goat cheese 1/3 cup cilantro, washed and chopped 1 small avocado, diced 1/2 cup BBQ dressing, if desired Instructions In a large bowl add lettuce, top with all ingredients except for avocado and BBQ dressing. Toss salad gently. Place into cold salad bowls. Garnish with diced avocado and drizzle with BBQ dressing if desired. Serve with low-fat corn tortilla strips. Notes To make vegan omit chicken and goat cheese. Add in roasted diced red peppers for more flavor. You may you any dressing you like. Sometimes I like adding 2 teaspoons of fresh lemon juice and find that I don't need any dressing at all. Click here credit!